GUIDE: HOW TO CHOOSE A KITCHEN OVEN?
CHOOSE THE KITCHEN OVEN THAT BEST SUITS YOUR NEEDS
Choose the kitchen oven that best suits your needs. This is the purpose of the guide below. Written by our professional advisors, it shows the various types available, their powers and characteristics, as well as energy efficiency . You can also contact us by email info@powerzoa.com; You get a quick, professional answer and you can choose with peace of mind, without any compromise. We put at your disposal all the tools available so that you can decide the best oven, always at the best price and service.

TYPES OF KITCHEN OVENS
Basically there are two types of ovens, independent ovens and multi-purpose ovens. Installing one or the other depends on the type of cooking plate we have. If we have a hob with its own controls, we can install a completely independent kitchen, and we can install it under the same hob or in a separate column in any other space in the kitchen. They are the most usual and the most types we can find.
But there are cooking plates, which do not incorporate the controls, and this is where the multi-purpose ovens come in. These ovens incorporate, besides their controls, the four for the worktop and are attached to it by small wands called cardans carrying the Movement of the controls from the oven to the plate, therefore, the installation must be under the counter. They are ovens that are installed less and less and the brands that make them usually have a conventional and a multifunction model with finishes in INOX, WHITE or BLACK, for example the model HE 615 ME Teka brand.
Regarding the independent furnaces below we detail the different types that you will be able to find according to its functions and the use that will be given to it: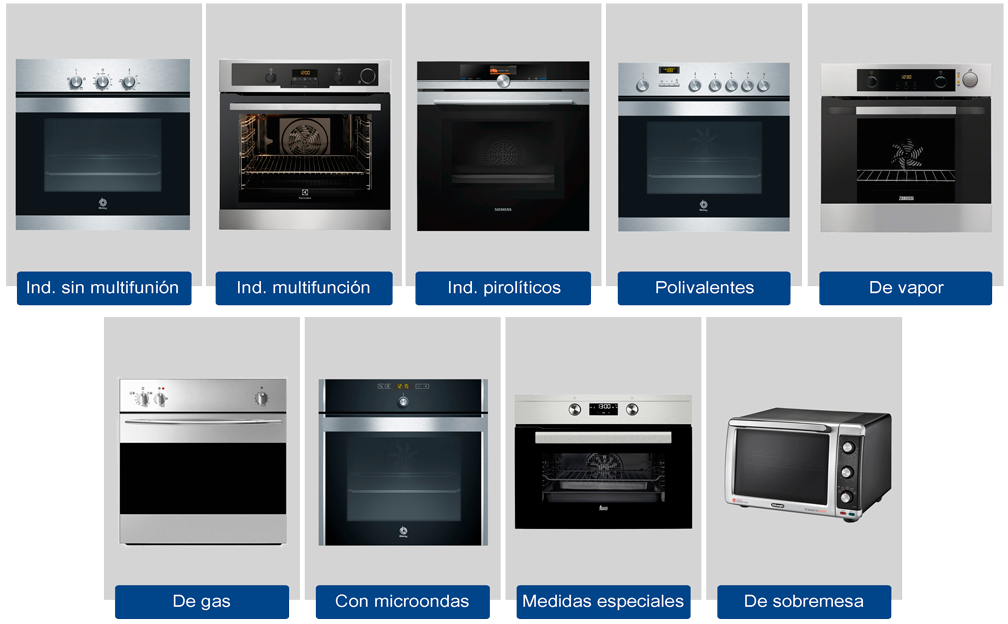 CONVENTIONAL INDEPENDENT OVENS:

It is the typical oven of life, works with a resistance on the top and another on the bottom, and basically has three functions: Only lower heating, only heating top "grill" or combining both things at once. Its main feature is the simplicity, ease of use and price, are the most economical. Recommended for those who are going to use it simply to heat or gratin or for those who do not like cooking and practically will not use it. One model to highlight would be Balay's 3HB503XM .

INDEPENDENT MULTIFUNCTION OVENS:

This type of oven, apart from the functions mentioned above, also incorporates a fan in the back wall of the oven, which circulates the air throughout the cavity, achieving a more uniform cooking of the food and allowing us to cook two dishes to The time. It is recommended for families of 4 or more people who like to cook and that they will use it more than twice a week. This type of oven is the most usual, which is more or less expensive depends on the performance you have, for example: manual or electronic programming, controls retractable or not, folding opening or with removable carriage, or even there are opening right Or left. A perfect example is the Siemens HB42AR551E .

PYROLYTIC INDEPENDENT MULTIFUNCTION FURNACES:

Oven with the pyrolysis cleaning system that heats the oven at 500º for one hour and carbonizes all the dirt, facilitating the task of cleaning, since just a rag will be enough to clean it. It is a recommended oven if you like to cook a lot and you will use it frequently. Highlight the Balay 3HB558XF model. And for those who want more classic designs without giving up technology can look at models like the Smeg SF855PX .

MULTIFUNCTIONAL OVENS HYDROCLEAN OR AQUALISIS:

It allows us to clean the oven by pouring a single glass of water of 300 ml and in only 25 minutes. We select this function to evaporate the water and that the generated steam causes the grease to come off the walls without any effort and suffice with passing a cloth . The best model we can find in our website with value for money is the model HL 830 INOX brand Teka .

STEAM FURNACES:

They are ovens with all the functions that we have seen previously but that incorporate the steam function, with it we will get roasted on the outside and juicy on the inside, worthy of professional kitchens. With this type of oven, apart from steam cooking, we can perform multiple functions such as regeneration that allows us to heat dishes prepared the day before to avoid drying out, as well as to heat precooked food as in the professional kitchen . Also comment that for those who just want steam cooking there are models of ovens only with this function.Model to be highlighted: BS7314021M from AEG brand .

GAS FURNACES:

They are more energy efficient than electric ones, but they are less common when installing them, since initially they are quite more expensive, but in the long run they come to mind if the oven is used enough. One of the differences between the two would be, for example, the humidity level, the gas oven produces a more humid heat than the electric, preventing food from drying out. Gas ovens are greener than electric ovens; natural gas emits less greenhouse gases during combustion. An example of these ovens would be the Vitrokitchen HG6IB .

PYROLYTIC MULTIFUNCTIONAL FURNACES WITH MICROWAVES AND STEAM:

They are ovens in which all the benefits of which we have been seeing until now plus the microwave are united, advisable in case of professional kitchens or kitchens in which space plays an important role. Very practical because in it we find all the methods of cooking and the maximum comfort of cleaning in a single oven, but unusual, at the moment, do not offer all brands and its price is quite high. An example would be the model HN678G4S1 of the mark Siemens .

SPECIAL-PURPOSE INDEPENDENT FURNACES:

This type of oven can be divided into two categories: Compact ovens and multifunction ovens 90 cm wide. The only compact furnaces that sets them apart from the others is the height, if we usually talk about a measure of 60 cm with the compact we would be talking about a height of 45 cm, very interesting if we have little space in the kitchen. Because they are smaller they are not less practical, there are compact furnaces with all the versions: Multifunction, pyrolytic, even a model that incorporates the function of pyrolysis + microwave + steam function, therefore, imagine with only 45 cm of height of the benefits That we will have. An example of a compact oven may be Balay 3HB458XC . Within the category of special measures we can also find multifunction furnaces 90 cm wide , with more capacity to bake large foods. Its height is about 45cm and the inner capacity is above 77 liters. They are not pyrolytic furnaces but are made with special enamels to facilitate cleaning, even Teka, for example, in its two models of this measure, incorporates the Hydroclean cleaning system. Underscores Teka's HL 940 model.

TABLE OVENS:

These type of ovens do not need installation and we can place them in any space of the kitchen. We find them with several measures, conventional and also convection, even combined with microwaves. Very useful for singles or couples, second residences, campsites, for very small kitchens, etc. A perfect example would be the model MJ3294BDB LG brand .

WHAT SHOULD I LOOK FOR WHEN BUYING A KITCHEN OVEN?
Now that we know all the types of ovens that exist we are going to see what we should look for when buying one of them, here's the key features for a kitchen oven:
ENERGY EFFICIENCY:

Let's look at models of energy efficient furnaces A and A +, most of which are commercialized and are usually very energy efficient.

CAPACITY:

Although most furnaces usually have 57 liters of capacity, we must take into account that there are models, for example, AEG, ELECTROLUX, etc. Which have a larger cavity, 74 liters, with the same exterior measurements.

CLEANING SYSTEM:

Depending on the use given: PYROLITHIC, HYDROCLEAN, etc.

OPENING SYSTEM:

Foldable, removable cart, left side opening, right side opening, depending on the location in the kitchen.

HOW TO SAVE MONEY WHEN BUYING A KITCHEN OVEN?
Finally comment that in Power ZOA we always bet for energy efficiency and our recommendation is that whenever we buy any type of appliance we look at this feature. We share how you can save when buying a furnace with a good energy efficiency.
At Power ZOA we are at your disposal for what you need. Remember that you can finance your appliances for up to 10 months and without interest, do not hesitate to contact us throughinfo@powerzoa.com