GUIDE: HOW TO CHOOSE A KITCHEN HOOD?
CHOOSE THE KITCHEN HOOD THAT BEST SUITS YOUR NEEDS
On this page we are going to help you choose the best cooker hood. This is the purpose of the guide below. Written by our professional advisors, it shows the various types available, their powers and characteristics, as well as energy efficiency. You can also contact us by email info@powerzoa.com; You get a quick, professional answer and you can choose with peace of mind, without any compromise. We put at your disposal all the tools available so that you can decide the best cooker, always with the best price and service.

TYPES OF KITCHEN HOODS
To begin with we want to name the types of bells that exist, there are conventional bells, telescopic bells, decorative bells, filter groups, integration modules and ceiling fans. We explain in detail each one of them: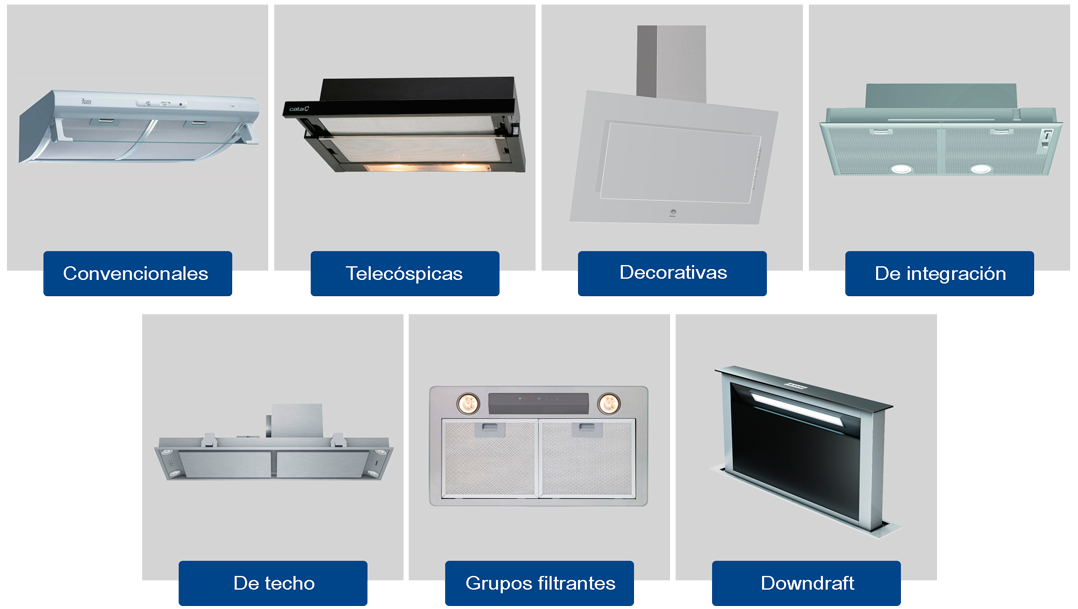 CONVENTIONAL BELLS:

They are the typical bells that are placed under the chimney, they go views and their capacity of extraction does not usually exceed 400 m3 / h, depends on the manufacturer. We can find different finishes: White, black and stainless. The most normal measurement of this type of bell is of 60 cm, like the model of Teka C620 , although we can find some model of 90 cm like the Balay 3BH729XP .

TELESCOPIC HOODS:

Also installed under the fireplace cabinet, but much less beautiful, you can simply see a small flap, which as its name indicates, is telescopic and extends at the time of cooking, then you can fold it and it is very discreet. Also in white, black and stainless finishes and we can choose several measures, according to brands: between 50-60-70-90 cm. The extraction power is usually between 400-430 m3 / h, depending on models, with the exception of some such as CATA TF7600WH which achieves a suction of 710 m3 / h.

DECORATIVE BELLS:

Within this category we find the wall or island. The installation as its name indicates, can be in the wall or in case of having the cooking zone in the center of the kitchen the installation would be on island, example, Cata ISLAND MOON . The decorative wall hoods are surely the most suitable models and designs, from the most economical and least suction from 60 cm like the Teka DM 60 , to models of 70, 90 and 120 cm, with great extraction power , Such as the Bosch DWB121K50 . Within the category of decorative wall bells, there are inclined ones, with a touch more modern and more practical when cooking as they leave the free space on the worktop. Also finished in white and black or stainless glass. These types of hoods incorporate perimeter suction filters, making them retain much more fats. Its cleaning system very easy and practical and its power of extraction is according to models up to 850 m3 / h. Emphasize the model with engine EcoSilence Bosch DWK098G21 .

INTEGRATION MODULES:

They would be the modern version of the filtering groups, they are concealed inside a tall cabinet and are available in several finishes, 55 cm wide in stainless and between 70 and 90 cm in white glass. They achieve great suction power, up to 820 m3 / h and thanks to its brushless motor have a very low sound level, not to mention its powerful LED lighting that will allow us to have a great visibility in the cooking zone. An example would be the model Siemens LB89585 .

ROOF EXTRACTORS:

They are integrated in the kitchen ceiling, so we get the bell to stop being the protagonist in the cooking zone, as they go completely unnoticed, do not need any furniture or wall to install them. They can also be installed in case of having an island cooking zone. With steel or glass designs, they incorporate high efficiency motors with an extraction capacity of up to 820 m3 / h.They incorporate a remote control so that we can handle it easily. Also available in several sizes, an example of them would be Siemens LF959RE50 .

FILTER GROUPS:

They are installed underneath the fireplace, but are not seen, are completely embedded inside the fireplace. We can choose measures of 45-55-75, for example the model Cata GL 75 X, model that has a power of 700 m3 / h. Of extraction.

BELLS DOWNDRAFT :

They are integrated bells on the hob, behind the hob. At the touch of a button the bell will appear and start to work, sucking up fumes and bad smells, and when we no longer need it it will disappear again on the counter. Brands like Miele have opted for this type of hood, with models of 710 m3 of suction and also with the possibility of operating with exit to the outside or with recirculation through the use of carbon filters.

HOW TO CHOOSE THE BEST COOKER HOOD?
Apart from the most important aspect of a hood is its extraction capacity, so here we give you a guide on how to calculate the most suitable for your kitchen. According to studies carried out, in order to achieve an adequate air renewal in the cooking zone, it is necessary that the hood renews the cooking volume between 6 and 12 times every hour. If the volume is multiplied by 6 it will be the actual extraction capacity at minimum speed. If we multiply by 12 it will be the actual extraction capacity at maximum speed.
Another important thing to keep in mind is that the hood is equal to or greater than the cooking plate, achieving a less dispersion of fumes and a renewal of the air in less time. A hood can renew the kitchen air in two different ways according to its installation mode, either in air outlet or in recirculation. This last one is indicated for those houses without possibility of exit of air.
A good installation is key to getting the hood to work properly, therefore it is advisable to use ducts of the largest possible diameter, reduce the use of 90 ° elbows, avoid partially blocked outlets, avoid using elbows with the inside straight and try to make the pipes are As long and rough as possible.
Once we have clear the bell that we need, it is convenient that we know that most have control systems with which we can easily regulate the different levels of extraction, the intensity of light and timing their disconnection. Also the majority of high-range bells manage to reduce noise to the maximum thanks to the use in their manufacture of a sound-absorbing synthetic material.
Another very important factor is the cleaning: most hoods incorporate a shielded interior that covers the engine, allowing us to clean it easily and safely. In addition the filters are dishwasher safe.

WHAT SHOULD I LOOK FOR WHEN BUYING A KITCHEN HOOD?
At this moment we already know firsthand what types of kitchen hoods exist … do you know what to look for when you buy a cooking plate ?. Here we explain the key features for all the kitchen hoods that exist:
POWER RATING:

Most mid-high range models get an A of energy efficiency.

SOUND LEVEL:

We must look at models that incorporate brushless motors, as they will be more energy efficient and much quieter.

POWER OF EXTRACTION:

It is the main characteristic when choosing an extractor, it is very important to calculate the aspiration that we need to get a clean kitchen, free of fumes and odors.

HOW TO SAVE MONEY WHEN BUYING A KITCHEN HOOD?
Finally comment that in Power ZOA we always bet for energy efficiency and our recommendation is that whenever we buy any type of appliance we look at this feature.
At Power ZOA we are at your disposal for what you need. Remember that you can finance your appliances for including  refrigerators, kitchen ovens, dish washers and coffee makers up to 10 months and without interest, do not hesitate to contact us through info@powerzoa.com