Guide: HOW TO CHOOSE A DRYER?
CHOOSE THE DRYER THAT BEST SUITS YOUR NEEDS
Choose the dryer that best suits your needs. This is the purpose of the guide below. Written by our professional advisors, it shows the various types of dryers available, their measurements and features, such as energy efficiency . You can also contact us by email info@powerzoa.com; You get a quick, professional answer and you can decide with peace of mind. We put at your disposal all the tools available so that you can decide the best model.
TYPES OF DRYERS
When purchasing a dryer, what types are available and what features does each have? In this section we explain it to you. In Power ZOA we can find evacuation dryers, condensation dryers and heat pump dryers: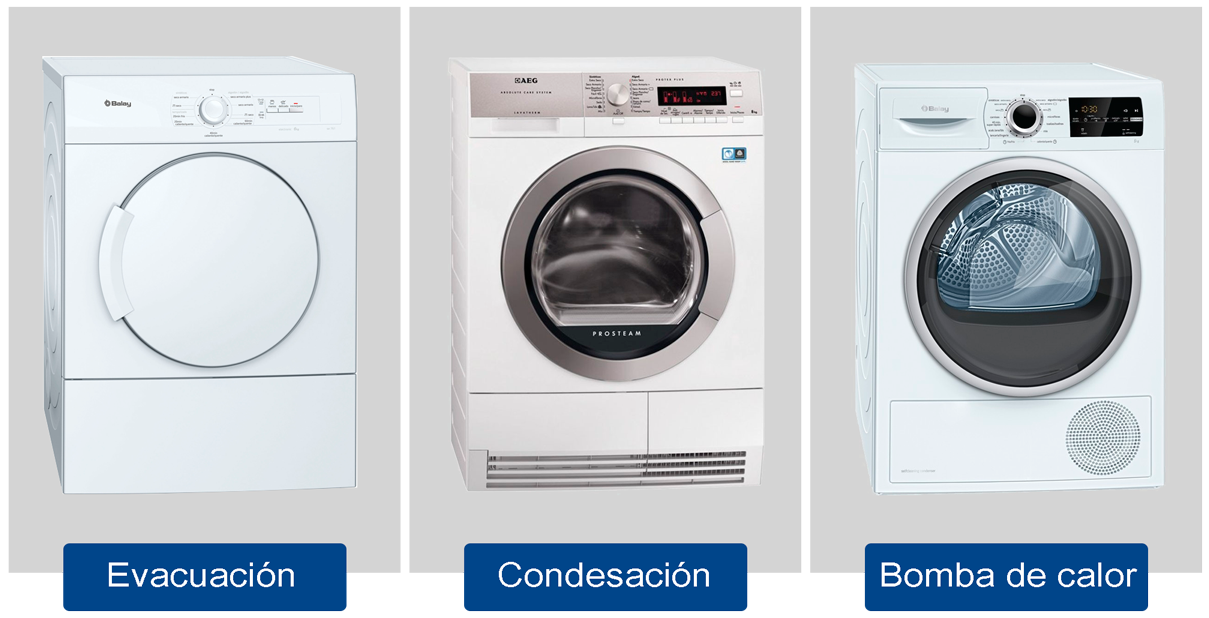 EVACUATION DRYERS:

This is the simplest and most common model on the market. They get the air from the environment, heat it through electrical resistances, pass through the drum that dries the clothes and draw the air through a tube located in one of the exits of the home, for example through a window. The dryer Balay 3SE761 is an example of a dryer with a very good value for money.

DEWATERING CONDENSERS:

These models work much like evacuation dryers. However, in this case, the moist air is not expelled to the outside through a tube but is condensed and accumulated in a tray. The Hotpoint AQC9 BF7 T (EU) model is an example of design, quality and reliability.

DRYER HEAT PUMP:

This type of dryer has started to be produced and to enter the market recently. Heat pump dryers heat wet clothes. The heating that the resistors used to perform in this case is performed by a heat pump capacitor. In principle, its operation is very similar to that of a dehumidifier. These types of dryers are three times more efficient than the others, although at the time of purchase, they have a higher price. It should be noted in this regard that the drying cycles in this type of washing machine are a little slower for one reason: the heat pump is not able to heat the air to temperatures as high as the resistors. They also have more potential for failure, as it involves more elements and parts, such as a compressor or an expansion system. Some models of heat pump available in our online store are the model Balay 3SB997B , the AEG T76489IH3 or the Smeg DHT71EES .

LOAD CAPACITY
The load capacity is the total kilos of laundry that the dryer can dry in an optimal way. It should be noted that the most common figures, in this sense usually go from 6 kg to 9 kg. The usual measures are usually around 60 cm wide and 85 cm high. If you are looking for a dryer with a greater or less load capacity do not hesitate to contact us by email to info@powerzoa.com or toll free 977 74 58 46 .
UP TO 7 KG LOAD:

These are dryers suitable for homes of two or three people, where clothes can be dried. It is not advisable, however, to fill them too much so as not to get an unwanted result because the garments are too wrinkled. In this case, for example, if towels or pillows are to be dried, it is best to do so in a cycle separate from that of clothing. An example of these models is the Whirlpool AZB 7570 .

8 KG LOAD:

They are the most common models and also the most sold because they are machines of a size adaptable to the majority of the spaces destined to these pieces at the same time of being effective to dry all type of laundry; Clothing, underwear, sheets, towels, bathrobes, etc. The model Miele TKB 640 WP LW ECO is 8 kg.

MORE THAN 8 KG OF LOAD:

These types of dryers are suitable for homes of more than four people. They are suitable for drying very large and heavier textile pieces. Great carrying capacity so you do not have to worry at any time of the day. In Power ZOA we highlight the model TMV 840 WP LW FDos SFinish of Miele , with 9 kg of load.

CONSUMPTION
The load capacity of a dryer is also related to its consumption. Normally, it is measured with the most usual models, which, how we have advanced, are those of eight kilos. Thus, we must take into account that consumption by types is as follows:
Evacuation dryers: 4.8 kWh.

Condensation driers: 4.2 kWh.

Heat pump dryers: 2.2 kWh.
In this way, we see that the type of dryer that consumes the most is the evacuation and the less heat pump.

WHAT SHOULD I LOOK FOR WHEN BUYING A DRYER?
Taking into account the types of dryers available, the consumption of each one and the various load capacities, we detail what characteristics should be taken into account when choosing the model of dryer that best suits the needs of each consumer.
PROGRAMS AND FUNCTIONS:

According to the fabric of each garment. It is important to check if there is a program of cotton, wool, microfibers, towels, lingerie, etc. The most important thing about your dryer is to treat delicately the garments you try, whatever the fabric they are. For this reason, there are many models that incorporate soft special drums, designed to get a good finish.

POWER RATING:

How does the use of the dryer affect the electric bill? We have energy efficiencies B, A, A +, A ++ and finally A +++. It is recommended to buy a model with a high efficiency, A ++ or A +++, since at first they may be more expensive but, in the long run, they are a saving.

SOUND POWER:

The sound of the dryers is measured in decibels; Most produce a noise that reaches a maximum of 65 dB. It is also important to take into account the level of vibration; Some models incorporate panels to avoid it.

HOW TO SAVE MONEY WHEN BUYING A DRYER?
An efficient appliance, in the long run, helps you to save. In Power ZOA we show you how with this infographic, in which you can discover why it is favorable that you decide to buy a dryer with a high energy efficiency. Remember that we are at your disposal and we advise you in the purchase of your appliances. We adapt to your needs and make your shopping more comfortable since you can finance them up to 10 months and without interest. For any questions, do not hesitate to contact us through info@powerzoa.com